Another first day of the week, another recipe. This delicious dish was born out of our love of Chicago style Italian beef. See, I grew up near the city and ever since the first time I took Tom back with me to meet my parents and introduced him to Italian beef and deep dish pizza, he's been coming up with any excuse to get back there just for the food. However, considering a plane ticket costs approximately two hundred and fifty big ones, Tom decided he was going to take on making homemade Italian beef to save us a few bucks. At first, I laughed in him face. I grew up on Italian beef. Teddy Red Hots was 5 blocks away from my house and Portillos wasn't too far either. I wasn't going to be impressed by my fiancées first attempt at Italian beef. No way. No how.
Well I stand corrected. While his beef isn't Teddy's, it certainly satisfies my cravings and has decreased our amount of time in TSA airport security lines.
Ok enough story time, more recipe. Without further ado:
Chicago-style Italian Beef
-Pre sliced frozen steak (similar to steak-eze) - we use 3 patties for the two of us
-one small onion
-3 tablespoons jarred Italian cherry peppers - finely chopped
-1 teaspoon Italian seasoning
-2 tablespoons minced garlic
- salt and pepper to taste
-splash of additional oregano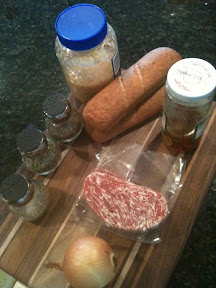 Cook onions until translucent. Add steak patties and seasonings. Add garlic and peppers once meat starts to brown. Cook until meat is cooked through. You may need to drain the meat if it's looking liquidy.
Should look something like this:
Oh, wait. That's our cooking partner ;). But, seriously like this: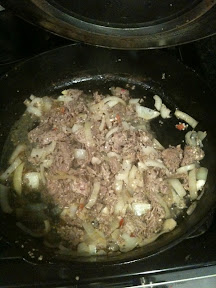 Serve on sandwich rolls:
Stuff face.
Note: this is a quick and cheap alternative to slow cooking a roast all day. My mom makes a killer Italian beef, but Tom and I are very much 'want it now' types and with a baby in the house it's hard to be cooking all day.
Enjoy! And remember, always clean as you go!