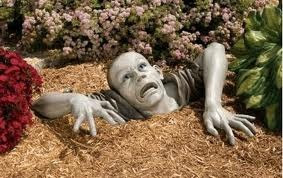 That picture pretty much sums up how I feel right now.
Traveling with an infant sucks. Its an entirely different kind of suck that puts all other suck in my life to shame.
I decided to take Henry to Chicago to visit his grandparents. Fun, right? Wrong.
Tom couldn't take off as many days of work as I want to go so I booked a flight to travel alone and then Tom would come for the weekend. Sounded alright to me.
Everything was fine until halfway through the flight when Henry decided he no longer wanted to be imprisoned in his baby bjorn and started whining. I took him out and held him only to have him squirm and scream until I managed to blindly find one of his pacifiers and shove it into his mouth. He relaxed until the decent into Chicago when he screamed bloody murder (likely because he was uncomfortable with the pressure change) and noticeably frightened the guy sitting next to us.
After surviving the trauma of the flight, I was looking forward to Henry sleeping so I could get some good sleep too.
Not so fast, Mrs. Optimisticpants.
My parents are hoarders. Ok, not like "Horders," the TV show hoarders, but getting close. The only place for the two of us to sleep is in my childhood bedroom which they have since crammed full of yard sale finds and baby crap. Henry's Pack N Play is about 2.5 feet away from my twin bed, and those 2.5 feet are two and a half feet of old floorboards that squeak mercilessly.
Sleep was not to be had for either of us. Dad wasn't around to give Henry his midnight feeding, and between the squeaky floorboards and my mommy sense (much like spidy sense) waking me up every time Henry so much as moved a finger, sleep was a far off distant memory.
Here's to counting the hours before Tom arrives and I can take a 10 hour nap.